Aluminum for abs license plate
Aluminum for abs license plate is one aspect of automobile body lightweight reform. Major automobile manufacturers are increasingly favoring aluminum, and aluminum is used more and more widely in automobiles. The use of aluminum alloy to build the auto body not only improves the performance of the automobile, but also conforms to the current lightweight trend in the automotive industry. Automobile license plates have also begun to use aluminum alloy, automotive aluminum license plates are already common.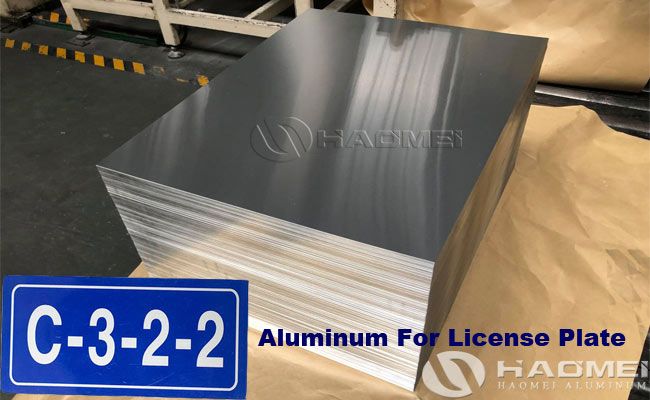 There are many alloy grades and specifications of aluminum abs license plate. Common specifications include 5052 aluminum alloy sheet, hot-rolled 1060 aluminum sheet, hot-rolled 3003 aluminum sheet, etc. In addition to the above specifications, there are also multiple models and specifications to choose from, and they can also be combined with users. Production requirements are reasonable and customized. Aluminum abs license plates use 1100 series aluminum plates as substrates. Roads with higher technical levels should use 3003 aluminum alloy plates, and large sign boards in windy coastal areas should be 3004 or 3104 aluminum alloy sheet. The main alloys for automobile aluminum license plates are 5005 and 5052 aluminum plates. 5005 aluminum alloy h34 and 5052 aluminum alloy plate are the most popular products of Haomei Aluminum, with high market recognition, advanced processing technology, stable performance, good forming processability and corrosion resistance. Lightweight, good flatness, not easy to rust, and slow oxidation, easy to color and lighter weight.
The specifications of aluminum abs license plate are:
Alloy: 1060, 1100, 3003, 3004, 3104, 3105, 5052, 5005
Tempering: O, H12, H14, H16, H18, H11, H24, H26
Thickness (mm): 0.15-600
Width (mm): 20-2600
Length (mm): 500-16000
This aluminum plate substrate is coated with fluorescent reflective material and is made by pressing and drying.