BIW Aluminum
Car lightweight is a hot topic in the automotive industry in recent years, the majority of car companies have also done useful exploration in the field of automotive lightweight, not only small cars need lightweight, large passenger buses need to be lighter. As a substitute for steel, biw aluminum is widely used in automotive lightweighting, for example, 5000 series aluminum alloy 5052 aluminum sheet has been used in some large buses.
The skin is the main part that constitutes the square cabin and the large plate of the compartment. It has three rectangular square holes opened on the upper side for installing safety windows, side doors and oiler doors, and the four corners are cut out for loading the notches of the package corner parts. The skin of different positions of different large plates on the cabin have different structures, but generally use rectangular thin aluminum sheet with thickness of 1.5~2.0mm. The processing precision and manufacturing quality of aluminum skin sheet directly affect the comprehensive performance and service life of the cabin. Take 5052 aluminum biw as an example, the surface of aluminum plate is required to be flat, no warpage, scratches, dents and other defects, and the warpage is more than 30mm within 1000mm, which is prohibited to be used as a large plate skin. Because the warped title of the big plate, although in the bonding foam process can be forced to flatten the tooling, but the internal stress can not be eliminated, which will be the mask of the hidden danger of debonding and bulging.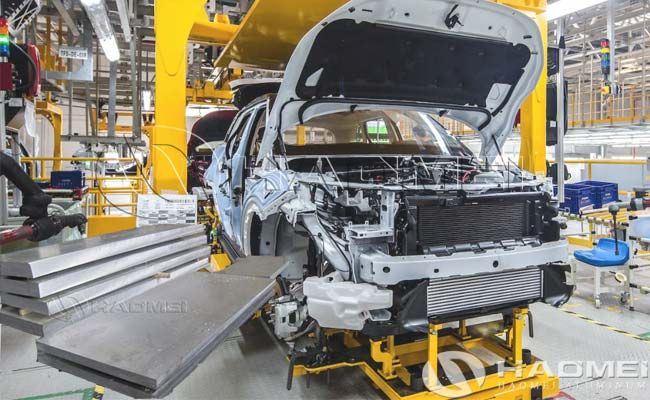 The 5052 aluminum plate of Haomei Aluminum is used in the body skin of a large new energy bus. 5052-H32 aluminum plate of Haomei Aluminum is used for the skin of the bus, with a thickness of 1.5mm. 5052 aluminum plate is aluminum-magnesium alloy aluminum plate, which has high strength, especially fatigue strength, and high plasticity and corrosion resistance. 5052 aluminum plate also contains a small amount of chromium, the role of chromium is similar to that of Similar to manganese, it improves stress corrosion cracking resistance, increases base metal and weld strength, and reduces the tendency to weld cracks. These properties fit the performance requirements of aluminum sheet for skinning in terms of corrosion resistance and fatigue strength.
In addition to 5052 aluminum sheet, biw aluminum produced by Haomei Aluminum are also widely used in other parts of automobiles: such as 6061 aluminum sheet in car/truck wheels, 5182 aluminum sheet in automobile doors, wings and other parts, 5083 aluminum sheet in gas storage cylinders, etc. If you are looking for related products, please send us email for more details!